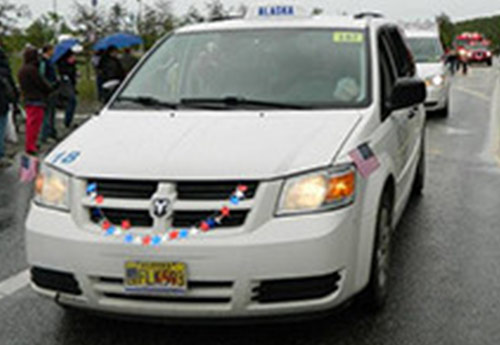 Courier Services in Wasilla, AK
Craving fast food but don't want to leave to pick it up? Need someone to pick up lab results quickly and deliver them straight to you? For all your courier needs in Wasilla, Kink-Fairview, Houston, Meadow Lakes, or Palmer, AK, there's Alaska Cab Valley, LLC. Our superb driving record, courteous drivers and prompt, affordable service make us the area's most trusted couriers for whatever your pickup, transport and drop-off needs are.
General courier:
If you need to get something from Point A to Point B quickly and safely, we're the only call you need to make! We offer general courier services to businesses and individuals throughout the area. Our deliveries are timely and affordable. Contact us for delivery rates and fees.
Grocery delivery:
We assist the elderly, infirmed or those with busy schedules in picking up their groceries! If you call ahead and have the store shop for you, we'll gladly pick up your items and bring them home to you. We also partner with local grocery stores as part of their home delivery service in Wasilla, AK.
Fast food delivery:
Craving a juicy burger or some late-night tacos? If you can't or don't want to leave to pick up fast food, we'll bring it to you! We're quicker than Uber Eats and other delivery services, with affordable prices on food delivery in Wasilla, AK. When the craving strikes, give us a call!
Lab runs:
There isn't time to wait on lab work. When you need specimens delivered or results picked up, give us a call. We have an immaculate driving record and a reputation for privacy, making us the authority you can trust with sensitive lab runs.
Vehicle pickups:
Had to leave your vehicle at the bar? Need someone to retrieve your car after getting a ride home from someone else? We can pick up your vehicle and get it safely back to you. Just pay the cost of two drivers and we promise the convenience and peace of mind that comes with a professional pickup and drop-off.
Contact Us
There's so much convenience in using a courier service! If you need something picked up or dropped off, call Alaska Cab Valley, LLC. Our affordable rates and quick service make us one of the most trusted courier and transportation services in the area. Contact us today at (907) 357-2727 for information about rates and fees.